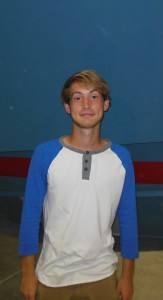 Having grown up in Midcoast Maine for the entirety of my life I have come to understand the importance of the ocean on the lives of everyone in this community and beyond. One of the most important aspects of my life that has been granted by the presence of the ocean is the need for boats to be built, and likewise, people to build them.
My father has worked with boats for most of his life, and due to this I had become aware of Back Cove Yachts at an early age. I was brought to the annual Maine Boats, & Harbors Show many times in my adolescence, where I got to actually see the yachts that my father had helped build with my own eyes. The summer preceding my Junior year of high school and this last summer of 2014 I have had the opportunity to work at Back Cove Yachts.
Going into what I considered to be my first "real" job I was excited to learn how the yachts I had seen at the boat show came to be from the amalgamation of fiberglass, wires, and many other components that I saw my first day at the boat shop. Needless to say, after two summers I knew a lot more about the yachts that Back Cove produced, and likewise, I was much more excited for this years Maine Boats, Homes, & Harbors Show. This year I knew I could bring my family or friends and literally show them parts of the boat that I had taken part in construction on similar models back at the shop. I liked being able to show people what I was a part of creating, and I took pride in what I had learned.
Another aspect of working at Back Cove Yachts that I enjoyed was that fact that many of the people I worked with were genuinely interested in my life outside of work. In general, I was much younger than most of my co-workers, and as a result of this I often had earnest conversations with those around me about high school and, due to the fact that I am going into my senior year, my plans for education after high school. Hearing my co-workers insights and having their support has given me increased confidence going into my senior year, and I'm happy to say that I look forward to the future, but even so, I will remember my experience at my first "real" job at Back Cove Yachts.
-Kaleb