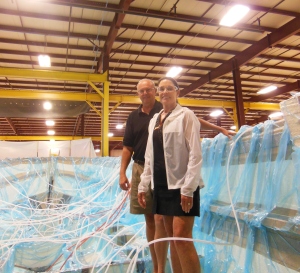 I found myself boat less after 25 years. It was my birthday in August 2009 and I took the plunge to sign the waiting list for a slip in my home port of Dana Point, California. The decision of what size to look for was made easy, very easy. The manager of the city run marina said 'if you want a slip within 18 months- get something less than 30ft.!" waiting for a 40 foot slip was and is over 8 years.
30 feet-that sound familiar? In Southern California the prime destination is Avalon Harbor on Catalina Island. During peak season, it is a zoo as every mooring can has a boat- sometime two- and it is first come, first served- no reservations- no anchoring. It is also 30 miles off shore and sometimes with rough seas so you want to stay once your have made the crossing. The front row of mooring cans always always have space but, your boat must be less than 30 feet. They checked your state registration to verify length!
The hunt started. Who makes a fun, safe usable and nice looking under 30 foot boat? Lots of turning pages in the boat magazines. Several months later I was lucky to find myself in Vancouver, British Columbia for a week at the Winter Olympics. Wednesday afternoon was open as we had no event tickets. What a beautiful city! We spend the time just walking around downtown and checked out several marinas.
There she was- a beautiful Back Cove- first one I had ever seen! At first look it satisfied all the requirements and she was for sale! We visited the broker's office to ask for the details. What a let down, she was a 34 Back Cove and just too large. I mentioned we were in the market for a sub 30 footer. He said Back Cove just stopped production of a vary similar boat 29 feet long and the last new one was located in San Diego. San Diego? I traveled 1500 miles north in the middle of winter to hear the boat of our dreams is located 60 sunny miles south of home? I couldn't wait to get back to check out the 29.
She was just perfect for what we needed and with her single diesel power- easy to use and maintain. After our purchase, we installed extra water tankage, an Espar heater and a bait tank. We were ready for some winter fishing off the Southern California coast!
Four years later with lots of great boating trips and memories I find myself faced with-RETIREMENT? More time to goof off and in need of a larger boat to have more fun times with friends and family. We want two staterooms and two heads would be nice but not mandatory. For extended cruising up and down the coast, an onboard washer/dryer sure would be nice. But what size?
Again an easy answer. We would enjoy the marina parks found up and down the west coast. To maximize usage, some of the best locations provide (only) mooring cans which limits use to boats of under 45 feet. Who makes a nice looking and performing boat meeting our requirements and with a single diesel?
After several boat shows and going on board many models the closest match was the Back Cove 37. We know the Back Cove product- great handling, easy to keep and seaworthy build quality. Nice looking too!
We visited our local dealer in San Diego- again! We were shown what I thought would work, a Back Cove 37. We were so hopeful it would be perfect (no boat EVER IS !) but after checking her out, it just wasn't going to satisfy all our needs. The dealer, sensing our feelings said: " Back Cove has just announced a new Back Cove 41 model that meets all your requirements AND has a dutch door for easy one person docking- I may have some information back at the office".
After reviewing a few pictures on his computer screen, that was all we needed to see. The deal was struck and the Back Cove 41 is ours! We can't wait for the delivery after the San Diego Boat show in January 2015. We want to introduce the new Back Cove 41 to some Tuna and Marlin we would like to know better int he waters off San Diego and Mexico this spring.
Regards,
Roger & Rhonda