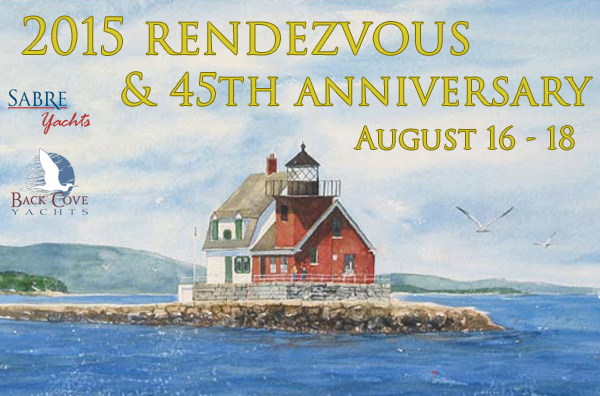 It's official! Set your course for 44.6.13 – 69.6.33 on August 16-18, 2015. That's Rockland, Maine where the 45th Sabre Anniversary and Rendezvous will be celebrated with the owners of Sabre sail and Sabre and Back Cove motor yachts.
The rendezvous will begin at 16:30 with first arrivals. Boats cannot arrive earlier as the City Marina docks will be occupied with the Maine Boats Homes and Harbors Boat Show. Space is limited at the City docks so be sure to apply early. There are several marinas in Rockland Harbor if the city marina dock is full and Rockland offers a large mooring field for those who prefer to be on the hook.
Sunday evening will feature a reception with beer, wine and appetizers served.
Monday will begin with a breakfast under the tent at the Marina followed by tours of the Farnsworth Museum (a Maine gem), the Owls Head Transportation Museum (another gem) and our own Back Cove Yachts boat building facility. The exciting new Sabre 66 Dirigo will be featured on this tour.
Monday evening we are planning a reception, lobster bake and an evening of camaraderie under the tent.
Tuesday enjoy our special Maine Blueberry Pancake Breakfast before you all head back to your boats for the voyage home.
Registration information is here. We ask that you please register early so that we can make plans, get the right sized facilities on reserve and star catching those delicious Maine lobsters.
For additional information please contact:
Jen Ryan
Rendezvous Coordinator
jen@sabreyachts.com