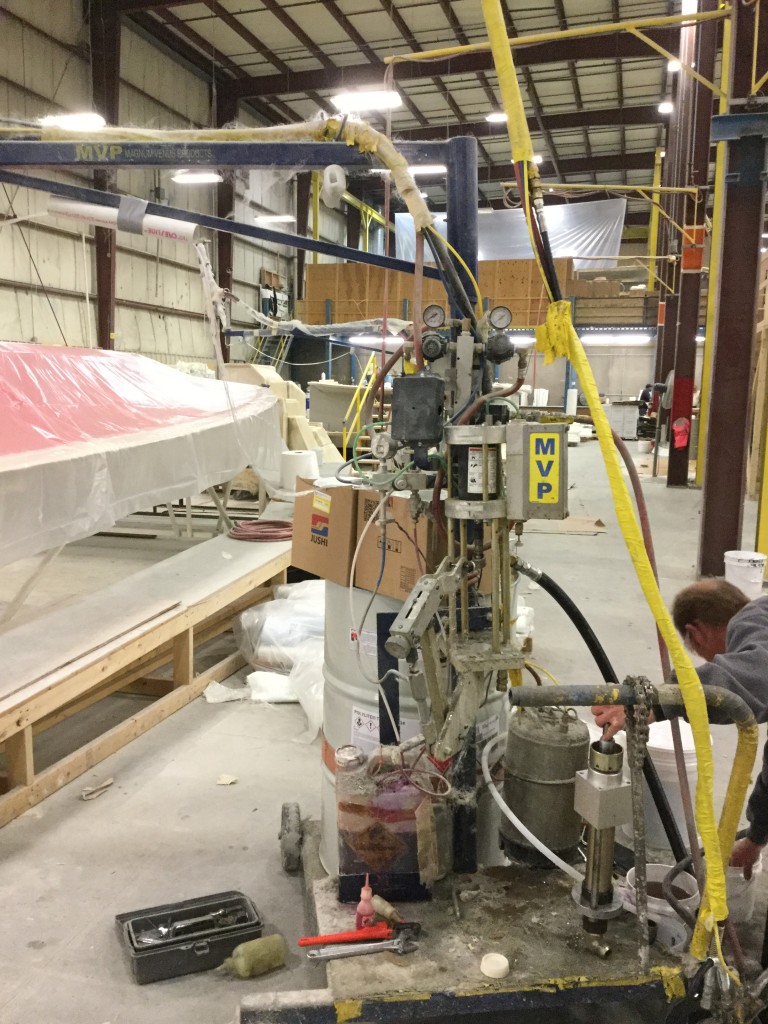 When I met up with Monty he was on a mission to fix something called a Chop Gun that had been giving him trouble for several days. I would very soon come to find out that Chop Guns are just one of the many things Monty has become a master at repairing around the Back Cove Yachts facility. Always on the move and known to everyone, Monty has been a fixture here for more than 20 years, and has overseen the facilities at Back Cove Yachts from the very beginning. In celebration, we set out to learn a bit more about this notoriously straight-talking motorcycle enthusiast.
What's your favorite song of all time?

Somewhere Over the Rainbow, the Judy Garland version from The Wizard of Oz.

Pepsi or Coke?

Pepsi

What's our favorite dessert?

Custard

What's your favorite food?

Spinach
Today's Project: a malfunctioning Chop Gun
Where did you grow up?

Rockland, Maine.

What was your first real job?

As a young man I was one of the first 6 people in the state of Maine to be certified as a Decontamination Technician. I sterilized surgical equipment.

Are you a dog person or a cat person?

Cat. I have a rescue named Bailey, and she runs the house.

Name one thing that always makes you smile, no matter what:

Animals. I can honestly say that I would rather face down a bank robber than see an animal get hurt. I even feel bad when I'm driving and I hit a squirrel.
A Chop Gun is used to spray resin onto the molds. It combines the liquid resin with fiber to create a coating. This one is malfunctioning and spraying in a thin stream rather than a wide fan.
What do you do in your spare time?

Work on other people's houses

Do you have any hobbies?

Motorcycle riding. Some buddies and I used to take a trip once a year – pick somewhere, stay in a hotel, and explore the area on our bikes.

What's the most important thing you learned in school?

Math

If you won a million dollars what would you spend it on?

My Family

What are you most proud of?

My kids and grandchildren. I have four grandchildren, two of whom are graduating from high school next year. They have big plans to be a Firefighter and a Teacher, and I'm very proud of them.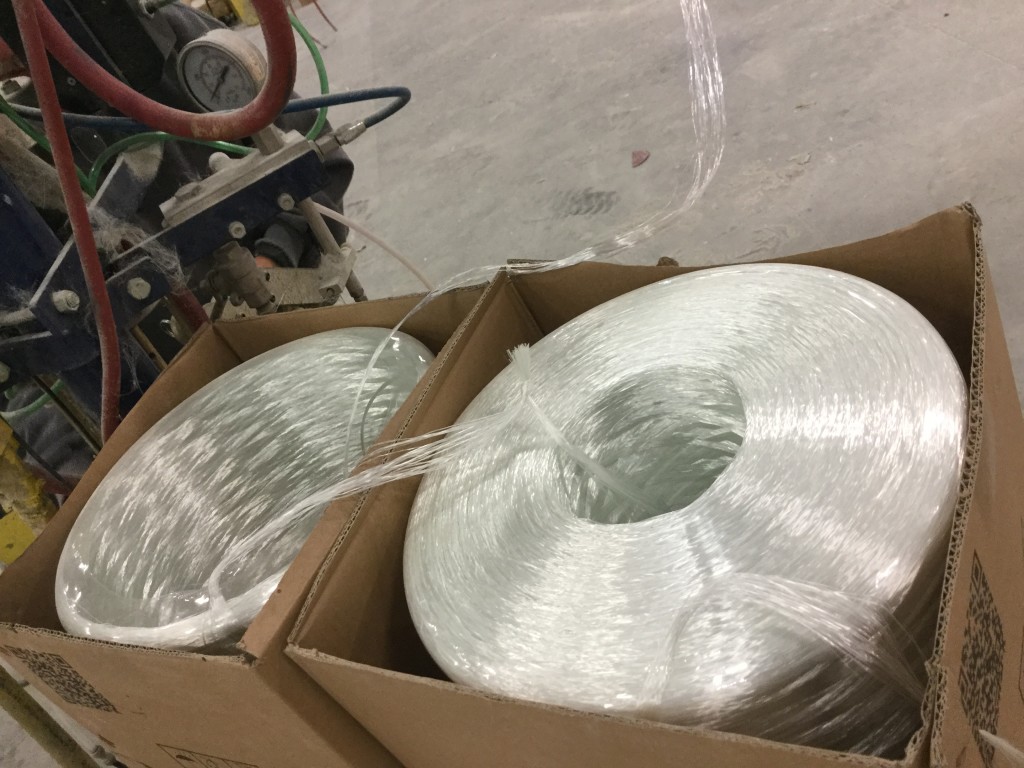 It's called a Chop Gun because this fibrous material comes in rolls and the gun chops it up before mixing it with the resin.
What's your favorite color?

Blue

You have to sell everything you own except for one thing – what would you keep?

My Kawasaki Nomad 1600 motorcycle. I used to have a Goldwing.

How honest are you?

Very Honest

Does your honesty ever get you in trouble?

Yeah, pretty often. It's been said I don't know when to keep my mouth shut. But I'm a straight forward guy – if you ask me a question you're going to get my honest answer.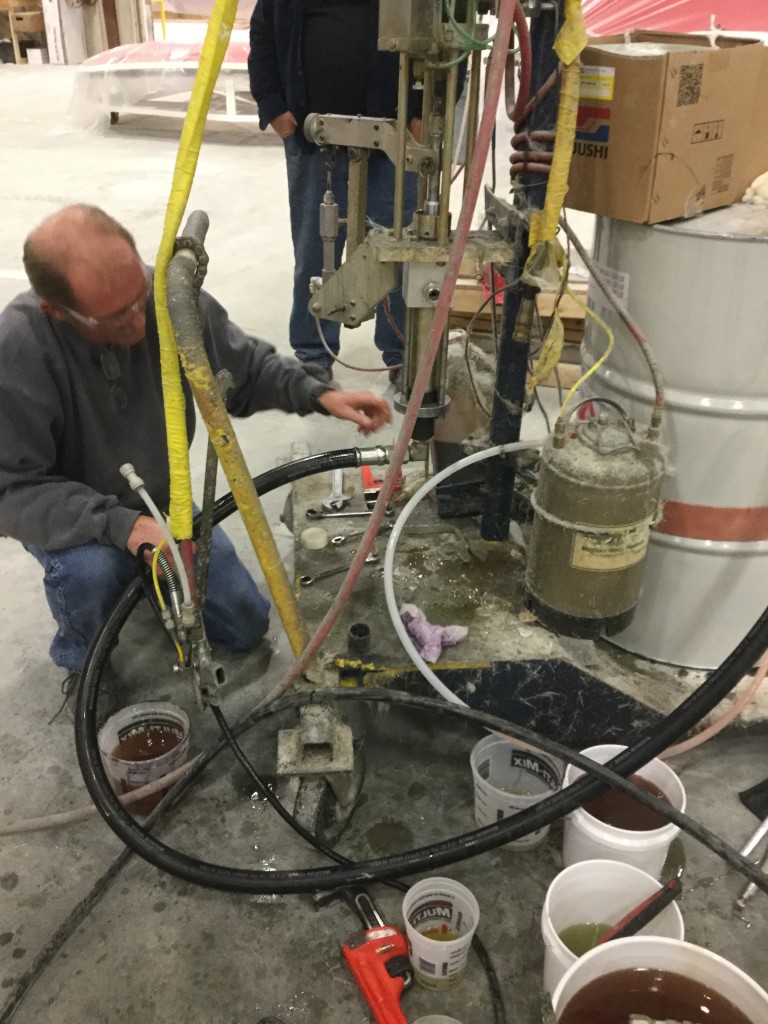 In the containers on the floor is resin (the brown/amber liquid) and acetone (the yellow/green stuff) which is used as a solvent to remove the resin from tools and hands.
What is the best band of all time?

The Beatles. I never went to a concert though, my parents kept a pretty tight rein and they would never have let me.

What do you cook when you're the only one home?

Cheeseburgers

What's your favorite sport/team?

Nascar – Kevin Harvick
Mold after the resin has been applied using the chop gun